The Corinthians midfielder looks likely to be heading for Europe in the coming months and interest in his signature will be coming from all quarters but it will not come cheaply
By Tom Webber
With Neymar's transfer from Santos to Barcelona confirmed, few would bet against Paulinho following the path set by his compatriot with a move to European shores this summer.
Inter are leading the race to sign the dynamic midfielder but will face competition from big-spending Ligue 1 duo Paris Saint-Germain and Monaco, while Roma and Shakhtar Donetsk are also keen.
Indeed, the Milan giants have long been admirers of Paulinho – the Nerazzurri have been interested since last summer and had a bid believed to be in the region of €17 million (£14.5m) rejected in January – but, until now, the 24-year-old has elected to stay in Sao Paulo. First, in order to participate in the Club World Cup and then again at the start of 2013 to take part in his club's Copa Libertadores defence.
The Italians' interest in the summer of 2012 encouraged the Musketeers to tie Paulinho down until 2015 with a new contract. In the process they also upped their stake in the player's economic rights from a measly 10 per cent to 50%, shelling out £3m for the privilege.
This also won him a lot of praise from fans of the reigning Brasileirao champions, and proved that he is a committed and loyal individual. Now, though, having suffered an early elimination from South America's premier club competition, both parties will surely be more willing to part ways.
But with Corinthians in a healthy financial state and in no desperate need to sell, they can hold out for a decent sum. Duilio Monteiro, deputy director of the Timao, told Lance! of the large price-tag that has been slapped on one of his club's prized assets: "Paulinho has so many clubs interested in him. I said it would be difficult to retain the player. Corinthians, however, do not need to sell. For this reason we have set an asking price of £18m – he will not be sold for anything less."
THE VIEW FROM BRAZIL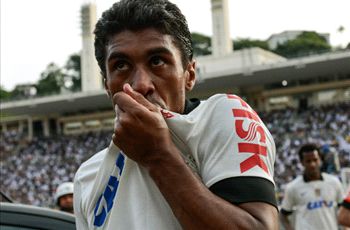 "Paulinho's situation seems very clear to everyone, although the player himself has been denying it: he will leave.

"His decision to turn down Inter and stay with Corinthians was applauded by the fans, as well as the media.

"Edu Gaspar, former Arsenal player, now Corinthians' sporting director, said that the club "is prepared to lose players". They have recently hired Maldonado and Ibson, two defensive midfielders, which suggest that they are especially prepared to lose Paulinho.

"Inter obviously seem to be leading the run to sign him. It's the only club either Paulinho or Corinthians have ever openly spoken about and he seems to have a particular appreciation of the Nerazzurri. But it has to be taken under consideration that he's likely to be an expensive player."

Marcella Martha | Goal Brazil
The third party involved in the transfer is the midfielder's former team, Audax-SP. Only a training club, they tend to hold on to a portion of a player's rights for future payouts.
In this case, they stand to make a neat sum but general manager Thiago Scuro has admitted to Lance! that the Morumbi minnows will not push for a sale:."It's logical that as a holder of 50% of the rights and, as he is not playing for Audax, we're not going to hold a good financial offer," he explained, "but it was agreed with Corinthians that negotiations would centralise around them."
Clearly, then, the decision to sell ultimately lies with Corinthians and there is now an inevitability that the 24-year-old will depart the Pacaembu.
Having established himself in the international fold, Monetiro will be hopeful that some impressive displays from Paulinho during the Confederations Cup will encourage potential suitors to part with loftier sums.
However, the relentless interest of Inter has earned them favour in the player's thoughts. "I said and I repeat: I would for sure go to Inter. They are a club known all over the world," the midfielder was quoted as saying in La Gazzetta dello Sport. "Ronaldo, Julio Cesar, Lucio and Maicon played there. Who would not want to wear that shirt?"
The arrivals of prestigious players such as Jose Paolo Guerrero and Alexandre Pato prove that Corinthians remain a club with ambition but, even with the upcoming Recopa Sudamericana against local rivals Sao Paulo and a move to a the new Arena Corinthians coming shortly, the lure of the European football will likely prove too much for the Sao Paulo-born midfielder.
The spending power of Brazilian clubs and the presence of third parties make such transfers far less straightforward than they would have been previously. The Nerazzurri will be keen to add the Brazilian to their ranks this summer but one thing is for sure: if Paulinho does leave Corinthians this summer it will not be for a paltry fee.