The Nerazzurri's new president, Erick Thohir, claims he wants to rejuvenate Walter Mazzarri's squad, which makes the imminent arrival of the Serb utterly baffling
COMMENT
By Mark Doyle
It's often claimed that those who cannot learn from the past are doomed to repeat it. The worry for Inter fans right now is that new owner Erick Thohir seems not only incapable of learning from the mistakes of predecessor Massimo Moratti – but also his own. How else can one possibly explain the Indonesian's imminent acquisition of Nemanja Vidic less than a month after a horribly ill-advised attempted swap deal involving Fredy Guarin and Mirko Vucinic?
At the start of February, Thohir claimed that his "main aim is to lay the foundations for the future" but that is surely at odds with the acquisition of a 32-year-old Vidic, whose best days are clearly behind him? But then, little Thohir has done since becoming the Nerazzurri's major shareholder last October makes much sense.
The media mogul has repeatedly spoken of his desire to rejuvenate Inter. Indeed, even before acquiring the San Siro side, Thohir encouragingly spent much time assessing the quality of the club's youth teams, while in November he stated: "Inter have one of the best academies in Italy, even in Europe. I want it to be one of the best in the world."
Investing heavily in youth would be a perfectly sensible, long-term strategy, particularly for a club operating within the necessarily frugal world of Italian football and bracing itself for the full effects of Uefa's Financial Fair Play regulations. Yet, in January, Thohir not only handed over €20 million to Serie A rivals Lazio for Hernanes, who will turn 29 in May, he also initially sanctioned the Guarin-Vucinic swap deal with Juventus. Thohir ultimately pulled the plug on the deal but not because he had realised the folly of taking a profligate and past-it 31-year-old forward in exchange for a 26-year-old Colombian midfielder of genuine star potential. No, the Inter supremo had merely bowed to fan pressure.
Of course, the fury of Inter fans was wholly unsurprising. They have seen their side go from champions of the world to the European wilderness in just four years, primarily because of the short-sightedness and wastefulness of their player recruitment programme. Indeed, it is widely acknowledged that Jose Mourinho, who left for Real Madrid immediately after leading the Nerazzurri to a historic treble in 2010, got out of San Siro at precisely the right time. The Portuguese left behind him an ageing squad that Moratti inexplicably refused to strengthen under Mourinho's successor, Rafa Benitez.
Inter fans had hoped that Thohir's arrival would herald the dawn of a new era – yet the more things change, the more they stay the same, as the club's Curva Nord supporters' group duly noted in January.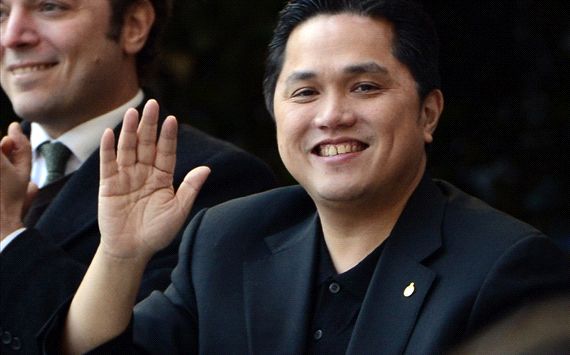 A New Hope? | Thohir promised to rejuvenate Inter but the fans are already losing faith in him
"If you haven't changed the ways to do things, we at least expected that the same mistakes shouldn't be repeated," they fumed in a statement released in the midst of the proposed Guarin-Vucinic swap.
"It's nothing we'd wish for, but you [Thohir] are seconds from going from Superman to Super-loser.
"We have already thrown away one year – if not more – because of the 'strategies' of this club. This is becoming the second; is there a third, fourth and fifth we should expect?"
The fans' fears are legitimate, certainly if the Vidic deal is anything to go by. Yes, the Serb will arrive at San Siro on a free transfer but Inter have agreed to pay the centre-half a basic package of €3 million per season, which could rise by a further €500,000 with bonuses. Given one of Thohir's primary goals was to remove well-paid veterans from the roster, that contract beggars belief, particularly as Vidic, who will be 33 in October, is now as prone to injuries as he is susceptible to pace.
But then, Thohir is not even attempting to hide the fact that Vidic has been signed with a view to boosting Inter's profile in Asia.
"All of the decisions are collective; when we think of building a team we think of the pitch but also marketing," he confessed. "If we can have him it would be good since he is famous in Asia. The Premier League is the top in Indonesia; the player would add value to the club."
Thohir's desire to broaden Inter's horizons is undeniably a sound idea – and hardly surprising, either, given Moratti mused last October, "People mention debts, but the real issue is revenue. An Asian influence is fundamental to bring in new markets." There has even been talk of setting up a football academy on the continent.
However, there is undeniably a worrying preoccupation with seemingly quick fixes. Thohir has been speaking of the "experience" that Vidic would bring to come and he wants the Red Devils skipper to take on something of an ambassadorial role with the club. However, surely he would be better served by ensuring that Javier Zanetti, one of the most respected figures in club football, commits his future to the club before the Argentine is lured away to Chelsea by Mourinho?
In the face of fan unrest, Thohir has insisted, "I am confident in our process and look forward to building the future for Inter together." Odd then, that many of the players he is currently recruiting have little hope of being around to enjoy it. Even more worryingly, the supporters may well have lost interest by then, too.
Follow Mark Doyle on