Juventus are working with police to "identify those responsible" after Inter Milan's Romelu Lukaku was racially abused during Tuesday night's Coppa Italia semi-final first leg.
The Belgium forward was shown a second yellow card for his celebrations in front of the home fans after converting a stoppage-time penalty to earn Inter a 1-1 draw in Turin, with Lukaku then subjected to abuse from the stands.
A chaotic end to the Allianz Stadium encounter ensued as scuffles broke out between both sets of players, resulting in Inter captain Samir Handanovic and Juve midfielder Juan Cuadrado being sent off after the final whistle.
A statement from the Turin club on Wednesday read: "Juventus Football Club, as always, are collaborating with the police to identify those responsible for the racist gestures and chants which took place last night."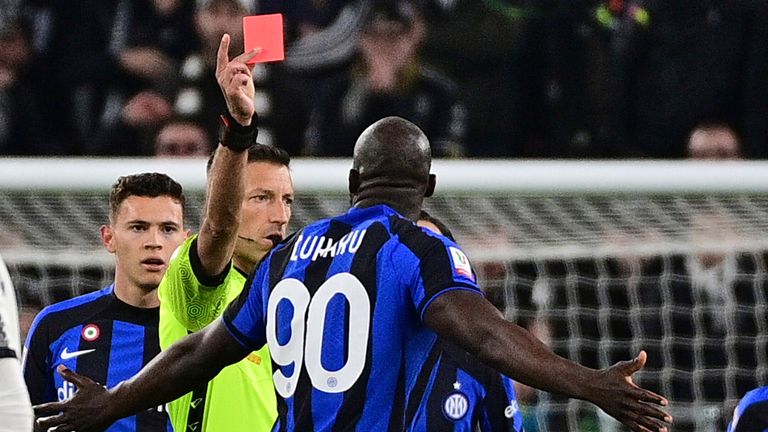 In a statement released late on Tuesday, US based sports agency Roc Nation – which represents Lukaku – demanded Juventus apologise to the striker.
"Tonight's racist remarks made towards Romelu Lukaku by Juventus fans in Turin were beyond despicable and cannot be accepted," Roc Nation Sports International president Michael Yormark said.
"Before, during, and after the penalty, he was subjected to hostile and disgusting racist abuse. Romelu celebrated in the same manner he has previously celebrated goals. The referee's response was to award a yellow card to Romelu.
"The Italian authorities must use this opportunity to tackle racism, rather than punish the victim of the abuse."
Lukaku, on loan at Inter from Chelsea, was also the target of offensive chants in 2019, which he condemned in a social media post at the time.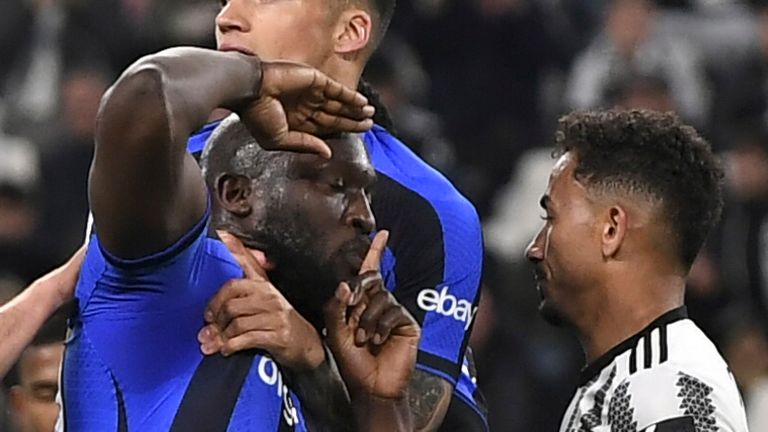 "History repeats… Been through it in 2019.. and 2023 again..," Lukaku said in a post on Instagram on Wednesday.
"I hope the league really take actions for real this time because this beautiful game should be enjoyed by everyone…"
Inter also reiterated their stance against racism and expressed their support for Lukaku.
"We want to firmly reiterate that we stand united against racism and all forms of discrimination," a statement read.
"Football and sport must not only be a place for emotion but also for clear and shared values, and what we saw last night in the final minutes of the Juventus vs Inter Coppa Italia semi-final in Turin has no place in our sport.
"This is why we reiterate our support, affection and solidarity to Romelu Lukaku, just as the world of football is doing from all over since the incident.
"Stay strong Rom, we stand with you!"
Racism has been a long-running problem in Italian football and authorities have been criticised for not taking strong enough action.
On Wednesday, Serie A put out a statement condemning racism, adding, "Clubs, as they have always done, will identify the guilty individuals and ban them from their respective facilities for life."
The league did not name Lukaku in their statement.
CyberSEO.net – ChatGPT autoblogging and content curation plugin for WordPress