The old rivals of Italian football are at each other's throats again following Erick Thohir's last-minute decision to pull the plug on their agreed deal
COMMENT
By Kris Voakes | International Football Correspondent
They've fallen out before and are bound to do so again, but Juventus and Inter are currently going through another rocky period in their long, turbulent relationship following the breakdown of this week's proposed Mirko Vucinic-Fredy Guarin swap deal.
With an agreement firmly in place and the final switch set to be given the go-ahead, Inter owner Erick Thohir made an 11th-hour decision to renege, keeping Guarin in Nerazzurri colours and leaving Vucinic stuck at Vinovo.
Thohir's claims that there was a lack of "necessary technical and financial conditions" amid rumours he questioned Vucinic's fitness drew the ire of the player's agent and of Juventus director-general Giuseppe Marotta, who delivered a tirade against Thohir and Inter in a press conference on Wednesday.
'NOBODY KNOWS WHO IS RULING INTER'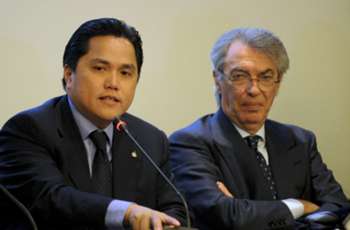 THE VIEW FROM ITALY

"It is definitely a smaller feud compared to the wars of 1961, 1998 and 2006. Those three clashes were essentially related to the field of play. This is the first time the two teams are arguing over a transfer.
"The real point, though, is another one: Mr Thohir – the new Inter president – in his very first transfer operation, has created an unbelievable mess. In Italy there's the feeling that Thohir may not be good enough to rule Inter. He hasn't appointed his own men in the board, Massimo Moratti is still acting like a shadow-chairman, and nobody really knows who effectively rules.
"It seems very unlikely that Juventus and Inter will deal for players in the near future, while social networks are full of jokes about Inter's board and especially about Branca.
"The neutral view is that the Inter board are clumsy and unprofessional. Meanwhile, the Inter fan base is angrily reacting against Juventus, reminding them of all the troubles of the past – particularly Calciopoli."
Federico Casotti | Chief Editor, Goal Italy

It is nothing new that these clubs should find themselves on opposite sides of the trenches. They have been sworn enemies since 1961, when the FIGC awarded Inter a 2-0 Derby d'Italia victory after a pitch invasion in Turin only to reverse the decision on the eve of the season's end, effectively handing the title to Juventus amid rumours of influence from Bianconeri chief Umberto Agnelli.
The rearranged game went ahead, but Inter president Angelo Moratti ordered coach Helenio Herrera to send out his youth team, with Juve subsequently winning 9-1.
Relations gradually improved over the ensuing years until in 1998, the rivalry sparked once more over the now-infamous flashpoint at the Stadio delle Alpi. Mark Iuliano's foul on Ronaldo in the penalty area went unpunished and 20 seconds later Taribo West brought down Alessandro Del Piero in the opposing box. Although Del Piero missed from the spot, Juve held on for a 1-0 win that was decisive in the Scudetto race between the sides.
Then, of course, there was the great Calciopoli scandal of 2006. Juventus were relegated to Serie B, suffered a nine-point deduction and were stripped of two titles amid claims they had breached sporting laws by approaching referees and delegates ahead of fixtures.
However, the Turin club maintain to this day that Inter were behind the wiretaps which uncovered their misdemeanours and were themselves guilty of graver dealings. Their case seemed to be supported by a civil ruling in 2011, but the accusations and counter-claims will go on forever due to the statute of limitations making the whole saga a closed conversation.
But just as bygones were becoming bygones once more, the bizarre collapse of the proposed swap has left the two parties at loggerheads again, with Marotta's inflammatory words painting Thohir as a dishonest and disrespectful operator.
"Inter asked us for permission to speak to Vucinic back in mid-December – that's when negotiations started," said Marotta. "Once it became clear there was to be no money exchanged, we considered the option of a player swap."
From there Inter continued to tread the path towards an agreement, with Guarin and Vucinic heading in opposite directions for talks over the finer details of the transfer. It wasn't until Thohir jumped in at the last moment that anybody realised there might be a stumbling block.
Since the deal's collapse, Inter fans have also vented their fury at the club, calling for the heads of technical director Marco Fassone and sporting director Marco Branca, the two men who were key to the initial negotiations being started. Some Interisti gathered earlier this week outside the club offices with banners asking for the removal of the "bad apples". The whole saga has left the Nerazzurri looking somewhat shambolic in their operations.
As for their relationship with Juventus, that once again looks to be shot to pieces.
"If there are to be any future negotiations, Thohir will have to offer an explanation to president Andrea Agnelli," blasted Marotta. "But I now know better than to set up a deal with them – not for a lack of reliability, but a lack of seriousness."
Just months after the heralding of a new era at Appiano Gentile, Inter are back in Juve's bad books. While so much changes in Italian football, everything always remains the same.