The Nerazzurri continued their surprise start to the campaign by beating Fiorentina and further silenced the doubters who wrote them off at the start of the season
COMMENT
By Tony Mahoney
The worst Inter squad of the Massimo Moratti era, with no chance of Champions League qualification; even a possible outsider for relegation, so said the Serie A experts just over a month or so ago.
But following Inter's 2-1 win over high-flying Fiorentina on Thursday night at San Siro, it is evidently clear that the Nerazzurri are not the no-hopers they were painted out to be before the season started.
After five matchdays, only Roma sit above Inter at the top of the Serie A table. The 2010 Champions League winners have won four and drawn one, scored the most goals in the division and conceded only twice. And their start to the season has been anything but easy, having also encountered holding champions Juventus in week three.
With 18 minutes to go against Fiorentina, it seemed as if new coach Walter Mazzarri's honeymoon period after arriving from Napoli in the summer was about to end, as the home side trailed to a Giuseppe Rossi penalty. But late goals from Esteban Cambiasso and Jonathan completed a dramatic recovery.
Mazzarri has already worked wonders at Appiano Gentile. There is no doubt that, personnel-wise, this is a very limited Inter squad. Technically, the Nerazzurri are no match for the likes of Juventus, Napoli, Roma or even a Fiorentina side, who were missing arguably their three best players in Mario Gomez, Juan Cuadrado and David Pizarro. But physically, mentally and tactically, Mazzarri's work is already paying off.
Having conceded a whopping 57 goals on their way to a disastrous ninth-placed finish last season, Mazzarri's 3-5-1-1 has shorn up an Inter backline that has been exceptionally organised thus far. The gameplan has been very simple – pack the defence, leave no gaps for the opposition, and then counter-attack at lightning pace with as many bodies as possible as soon as the ball is stolen.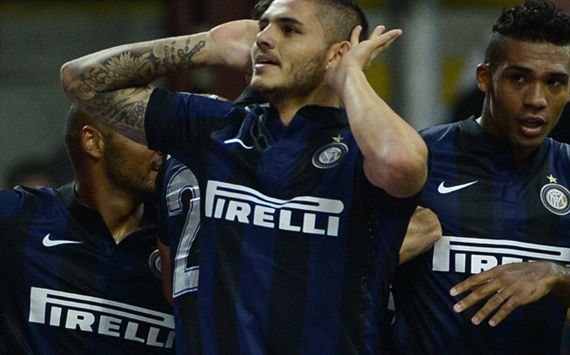 Silencing their critics | Inter have started the season promisingly
Some of the detractors have labelled Mazzarri's tactics as 21st-century Catenaccio, but with the squad at his disposal it is clearly the best strategy – and one that is working. Every Inter player is supremely fit, and this proved decisive on Thursday as Fiorentina tired in the closing stages. Players who were a laughing stock under previous regimes, such as Ricky Alvarez, Jonathan and Juan Jesus, have been transformed. All positive signs ahead of the likely takeover by Indonesian businessman Erick Thohir.
There is a togetherness – highlighted by Cambiasso after the Fiorentina clash – that hasn't been present since Jose Mourinho embraced a tearful Marco Materazzi on that famous night in Madrid in May 2010. The Argentine midfielder said: "You can see that Inter have an identity once more and if that is accompanied by results too then it's even better.
"Tonight we had a great reaction to going behind. The team is united and the fans can go home happy. Fiorentina really pressured us in the first half, but we knew they couldn't keep that tempo up and struck at the right moment."
However, while it is still very early days – the Nerazzurri were second in November last season but finished ninth – and there are undoubtedly better teams in Serie A, one thing cannot be disputed: Inter are not as bad as everyone first thought.